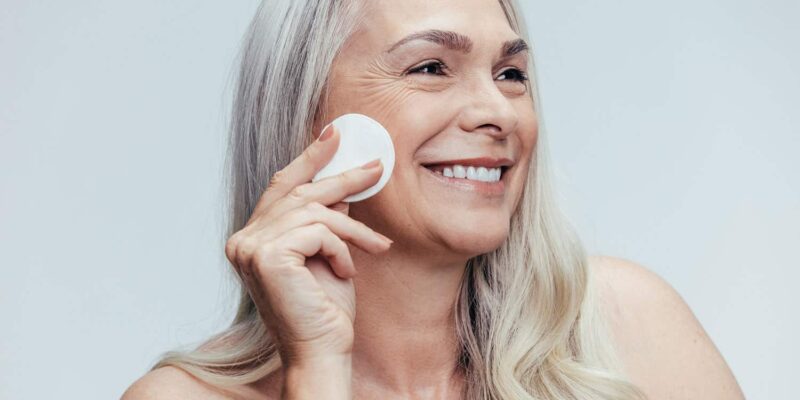 Mature skin needs extensive care because it tends to be dry and sensitive after menopause. With natural cosmetics for mature skin, you can do your now demanding skin a favor and give your face more shine again. From the age of 60, it is unfortunately no longer enough to rely on the skin's regenerative powers.
That is why you must act now and protect your skin with the proper care. Treat yourself to effective facial care that firms and improves elasticity. You will be amazed how your skin will improve after each care routine.
When should you start using natural cosmetics for mature skin?
The term mature skin is not precisely defined dermatologically. However, it can be said that from the age of 40, the skin loses a lot of elasticity and moisture. Effective facial care from the age of 60, therefore, contains other active ingredients than a face cream from 25.
With the loss of moisture, the first wrinkles appear. However, with the proper care, you can prevent the formation of wrinkles. Although good facial care cannot avoid the appearance of wrinkles, regular care helps keep the skin young.
Which are the best natural cosmetics for mature skin?
In particular, the Regeneration Intensive care series by Dr. Hauschka meets all the requirements for mature skin. The creams of this brand are especially suitable for allergy sufferers, so you don't have to worry about this. The Regeneration Intensive products are a vibrant care product for skin over 60.
However, the products are known for caring for the skin; they are also very intensive and provide long-lasting protection. The products also improve skin firmness, strengthen the skin barrier and resistance and ensure more elasticity. After applying the conditioner, use a face roller for evenness.
Skincare for the day in just three steps
Although mature skin generally needs more moisture, it cannot be said that skin needs the same care every day. Depending on the season and the shape of the day, the skin makes different demands on us. While mature skin sometimes needs rich care, a light facial fluid can be sufficient on other days.
The right cleaning
Immediately after getting up, you should clean your face with face wash cream. A face wash cream cleans the skin, clarifies it, and regulates it. In addition, the face wash cream refines and invigorates your complexion. If your skin is susceptible, you can, of course, also use gentle cleansing milk.
The cleansing milk ensures that dirt is removed from mature skin and prepared for further care steps. In addition, the cleansing milk has a caring effect.
How do you strengthen mature skin?
The face is refreshed and strengthened with a facial tonic. The face tonic stimulates the skin's powers and lets the face shine again. After using a facial remedy, you can look forward to a rosy complexion with vibrant radiance.
Incidentally, you can also use a serum that additionally strengthens mature skin for more vitality. Especially the face and the décolleté can use a portion of extra care very well.
The right protection
In the third step, your skin intensively cares. To do this, apply a rich day cream to your skin to strengthen and firm it. Natural cosmetics for mature skin promote elasticity and help with decreasing elasticity.
Apply facial care generously to your face. If you want to do something good for your skin, you can also use an oil serum. Mix the oil serum with your day cream for an intensive care effect.
Tips for optimal care from the age of 60
Natural cosmetics for mature skin do not rely on unnatural effects. Instead, natural cosmetics focus on long-term but constant anti-aging products without damaging the skin. With age, the skin becomes more and more demanding.
It is not uncommon for people of advanced age to suffer from skin diseases such as rosacea. If you also suffer from it, you need to take special care of your skin. Clean your face every evening with cleansing milk, and then apply a facial treatment to provide the skin with sufficient moisture.
Work the treatment gently into the skin so that your skin does not dry out further. Do you have problems with your eyes or mouth during the day? If the skin around the eyes or mouth is tight, mature skin needs rich care.
There are special eye creams for the eye area applied to the cleaned area around the eyes. Let the cream take effect quickly, and then use the day cream to your face as usual. There is a lip cosmetic for the lips, which can be applied more frequently during the day.
If you are looking for the ultimate care booster, you should reach for an intensive oil serum. The oil serum is a real all-rounder for additional protection.
Conclusion
Natural cosmetics for mature skin can be very effective if used regularly. The fact is that an immediate effect cannot be achieved with natural cosmetics. Only the conventional products, some of which contain many chemicals, can directly impact.
However, the creams, some of which contain active ingredients that are harmful to the skin, can dry out the skin over time and even trigger allergies in the long term. You decide which active ingredients your skin should come into contact with. While conventional products tend to have an immediate effect and can be harmful, natural cosmetics particularly care for mature skin and are even better for the long term.
Proper facial care is critical. You can be demanding when it comes to the appropriate care because, after all, so is your skin.